HOME | UPDATES | JOIN | MEMBERS | LINKS
This are some samples of the material we have posted on this site in the past.
Sets get removed after a while to www.wetlookshop.com, so make sure you stay a member if you do not want to miss our new material!
Note that not all these samples will be online anymore if you joined to late.
Currently there are 31 movies online
15 have recently been removed and will appear at www.wetlookstore.com

Update #690
Very funny and well shaped Desiree in a plain white shirt and a pink skirt, she takes off her shoes before going into the water.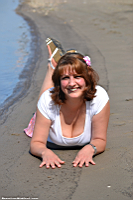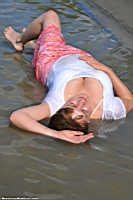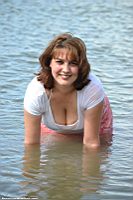 (also available as pay-per-download at www.wetlookstore.com)



Update #689
Movie of Indian Nicha wearing tight pants that get a great shine and a simple black shirt under a leatherlook jacket.
Very pretty girl in her very first wetlook-experience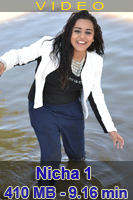 (also available as pay-per-download at www.wetlookstore.com)



Update #688
Samantha in a big pair of jeans and a denim shirt which she takes off near the end. Cute glasses.

(also available as pay-per-download at www.wetlookstore.com)



Update #687
She is pretty, funny, cute and sexy!
Sherry is from Iran and very spontaneously shows off her all jeans outfit and a thong peeking out.

(also available as pay-per-download at www.wetlookstore.com)



Update #686
Barbara in a summer dress splashes around and makes waves.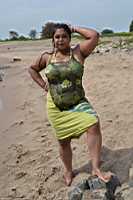 (also available as pay-per-download at www.wetlookstore.com)



Update #685
Desiree in a brown dress wades through the mud to get to a pond where she can do her poses.



(also available as pay-per-download at www.wetlookstore.com)



Update #684
A little black dress and a lot of sun is all it takes to have fun in the water :-)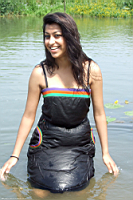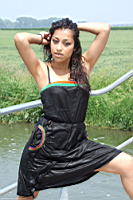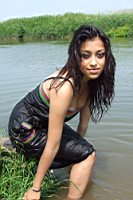 (also available as pay-per-download at www.wetlookstore.com) pay-per-download at www.wetlookstore.com)



Update #683
Filmed by her sister, Belinda takes a shower wearing her tight green synthetic dress.




(also available as pay-per-download at www.wetlookstore.com) pay-per-download at www.wetlookstore.com)



Update #682
Nice pictureset of Manon in a skinny jeans and a wool vest over a little blue top.
She gets her thick, full hair soaking wet!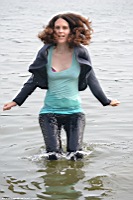 (also available as pay-per-download at www.wetlookstore.com) pay-per-download at www.wetlookstore.com)



Update #681
Movie of elegant girl Gaby on high heels, tight black stockings and a little dress.




(also available as pay-per-download at www.wetlookstore.com)



Update #680
Louise also did a solo shoot wearing a classic 70's dress that belonged to her aunt.
The fabric was very hard to get soaked, but in the end she got it all wet.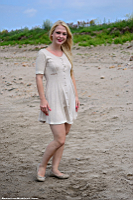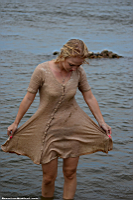 Update #679
New girl Kimberley came along with blond Louise and wanted to try it herself.
Great jeans and sunny poses!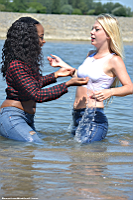 Update #678
Indian Belinda is wearing a summer dress and loves to show off her bare feet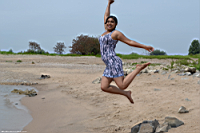 Update #677
Super-elegant Milou in a business suit with high suede heels and a black pantyhose.
She takes off her black jacket to reveal her white blouse which gets all sheer when soaked.
Her make-up runs down her face making it a wonderful sight!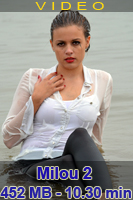 Update #676
Red pants and Manola-like shoes with red soles, also a white jacket on top of a blouse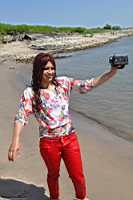 Update #675
Movie of Louise in an all white outfit (that gets c-thru where it matters) and a special show of her brand new Uggs!



Update #674
Kavita in pantyhose, shorts and a blouse... she rips her panty to shreds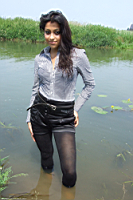 Update #673
Movie of Desiree in an Italian style bomberjacket Nickelson



Update #672
Cousins Nicha and Sally in tight jeans and a blouse show their long wet hair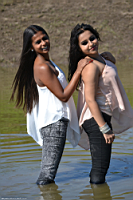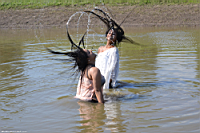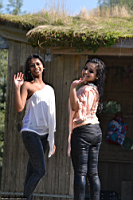 Update #671
Louise in an exclusive Ascot outfit including sheer white blouse and creme jacket over a wide white skirt.
When she swirls it rises above her waist in the members-area! She takes off the jacket and shows off this smashing outfit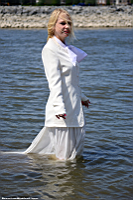 Update #670
Movie of Sherry in blue shorts, heels and a red T-shirt without bra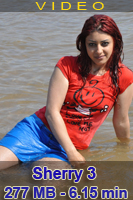 Update #669
Nisha in ripped black pants, blockheels and a yellow shirt, getting all wet!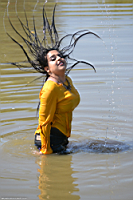 Update #668
Like it never went out of style! Desiree is showing off a great LONSDALE downjacket.
She also wears a white skirt that gets dirty in the puddle, nothing on her feet and nothing underneath the jacket!



Update #667
We wish you a merry Christmas and a happy new year - Team Wetlook

Play movie here: https://youtu.be/paI-dyM3oZQ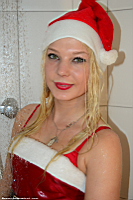 Update #666
We had some requests to post more 'big' girls... We do not have many of those, but Barbara qualifies :-)

Update #665
Manon is just a very cute, quiet girl that wanted to try out for some wetlook in her daily outfit.
Here she's wearing a stretch legging under a purple dress, jacket and purple suede shoes.

Update #664
Movie of Sylvie in a complete brown cotton suit, with flared pants, jacket, vest and a white blouse underneath.

Update #663
New girl Nicha stays elegant no matter how wet she gets.
Wide blue cotton pants and a Mango black shirt under a white jacket, always with heels.

Update #662
A special request at wetlookfantasy.com brought us this all-velvet outfit, including a long black velvet skirt, velvet jacket and headband.
It's a nice fabric to get wet, once it is soaked it is so heavy!

Update #661
Belinda in black legging under a pink dress getting a great shine. She takes off her shoes during the shoot.

Update #660
Double movie of beauty Pascale in jeans and shirt. Also in cotton pants with white blouse.

Update #659
Indian Sherry in a great jeans outfit and a loose red shirt without bra enjoys the splashing and the posing!

Update #658
Movie of gorgeous Tanja in thin cotton pants and a sheer pullover. Lovely long hair!

Update #657
Busty Barbara in Blue Body Big But on the Beach!

Update #656
Es ist OKTOBERFEST! Also hier zeigt Louise das echte Dirndl-Kostum!

Update #655
Movie of Louise taking a shower in black tight pants and a white blouse that gets very sheer, revealing a darker bra underneath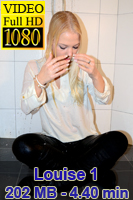 Update #654
Belinda in a tight green dress takes her very first clothed shower :-)

Update #653
Desiree in little red dress under a bomberjacket with fur-lined hoodie

Update #652
Movie of Yael in a little pond wearing a jeans outfit

Update #651
Barbara in a catsuit on high heels takes a shower

Update #650
Sherry in a strange combination of heels, shorts and a shirt enjoys a sunny day!

Update #649
Movie of alternative emo-girl Lucy in blue pants and a jacket without shirt underneath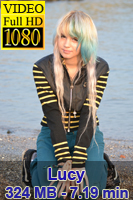 Update #648
Red dress and nothing else on Desiree. She's wild and extreme, but also very nice to work with.

Update #647: July 16 2015
Movie of very cute and elegant Milou. She is wearing an all jeans outfit and carefully
shows every part of it, including a nice pantypeek on top of her Hilfiger!

Update #646: July 8 2015
Asian beauty Gaby on heels in skirt and jacket with a tear in her pantyhose.
So it's time to rip those panties to shreds!

Update #645: July 1 2015
Great movie of gorgeous Tanja in black dress and pantyhose, which she rips

Update #644: June 21 2015
Louise in a Nickelson bomberjacket with fur hoodie and magnificent shine!

Update #643: June 14 2015
Jessica in jeans and black T-shirt under a lumberjack shirt

Update #642: June 7 2015
3 movieclips of emo girl Priscilla, wet leather, a dress and more.

Update #641: May 31 2015
Pretty Yeal in jeans jacket and a short over some great tight pants!

Update #640: May 25 2015
Movie of voluptuous Samantha in jeans and a shirt under a jacket which she takes off

Update #639: May 16 2015
Pascale in jeans and a little white top with small boots

Update #638: May 10 2015
Movie of Joyce in tight black pants and a white jacket over a shirt

Update #637: May 3 2015
Tough girl Sietske on sneakers and in a nice jeans gets soaking wet

Update #636: April 27 2015
Gorgeous Milou with running make-up in pantyhose, skirt and jacket over white blouse

Update #635: April 20 2015
Nerdy anime-girl Lucy is so cute in her jeans and little jacket over a bra

Update #634: April 14 2015
Movie of asian beauty Gaby on heels in skirt and jacket with a tear in her pantyhose.
So it's time to rip those panties to shreds!

Update #633: April 5 2015
Elsa in office suit and pantyhose gets herself soaking wet and takes her jacket and shoes off

Update #632: March 28 2015
Nicole and Carola want to get wet together, but Nicole chickens out... Carola has fun for two however :-)

Update #631: March 22 2015
Movie of Joyce in black pants and white blouse under a red jacket which she takes off at the end.

Update #630: March 14 2015
Tomorrow 17-year-old Max Verstappen makes his debut in the Formula1 for Toro Rosso...
To support him, here is Anja in netstockings, denim skirt and a red bull shirt :-)

Update #629: March 8 2015
Sporty Stacey in black pants and a jacket over a tanktop, with sneakers

Update #628: February 26 2015
Pretty Louise in black pants, suede boots and a c-thru white blouse.

Update #627: February 18 2015
Movie of Sigrun in black pantyhose under a short skirt and a blouse under a red jacket.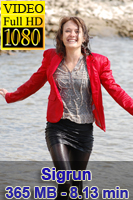 Update #626: February 12 2015
Esmaralda and Mandy in blue. Mandy in a skirt and Es in a tight jeans.
They play, jump and fight until they are completely soaked.

Update #625: February 3 2015
Anime-girl Lucy in schoolgirl knee socks that go from light gray to very dark gray
and pumps with heels, nice black outfit and happy girl!

Update #624: January 24 2015
Movie of emo babe Nathalie in regular jeans on All stars and a white shirt with a slipping bra under a green coat

Update #623: January 14 2015
Perfect shaped Yael in tight pants and blue sweater gets soaking wet

Update #622: January 5 2015
Samantha has great hips and bum, showing off in a tight legging under a wide gray shirt
Also cute short leather boots

Update #621: December 27 2014
Back from Ireland, sorry you missed us at X-mas guys!
Now, to end the year with a very nice movie of Divinia in jeans pants and a denim shirt over a tight black top

Update #619: December 11 2014
By very special request we have some fantastic Uggs on an also spectacular new girl!
Blond Louise is wearing an all white sheer outfit with gray Uggs underneath.
She takes off the boots and washes the black from her pants :-)

Update #618: December 3 2014
Milou is very elegant, very cheerful and very, very pretty in her Hilfiger jeans.
Some nice and shameless panty-peeking as well :-)

Update #617: November 24 2014
Movie of Tanja in pantyhose pumps, blue skirt with great shine and a black vest over a black blouse. Smashing!
Also available as a single download at www.wetlookstore.com

Update #616: November 17 2014
Priscilla shaved her half of her head but still looking great!
In a leather skirt and leather boots over net stockings in the shower, leather vest over black pullover

Update #615: November 9 2014
New girl Gaby is very elegant on her high heels, wearing gray shirt and stockings

Update #614: November 2 2014
Lovely Lucy with ripped pantyhose and an alternative look likes to get wet!

Update #613: October 27 2014
Our crew had a lot of fun splashing Joyce in her denim outfit, poring buckets of water over her blond hair

MORE SAMPLES
If you want to see what we have posted before, you can click HERE.
Note that these may not be available in our member-area anymore, they are just for reference.
When you join, you will get access to all of the currently available high resolution images and movies.
We update nearly every week and do rotate, so join if you don't want to miss anything!
Updating since 2003!
Premium Wetlook is a WAM membersite for fully clothed wetlook in casual and formal clothes.
Not just a pants and shirts, wet jeans or wet dresses, but complete outfits, mostly including socks and shoes!
All the clothes do get soaked, and most of the girls are wearing their own clothes which they wear to school or work as well!



All girls are over 18 years old.